Gtalkr = GTalk + Gmail + Flash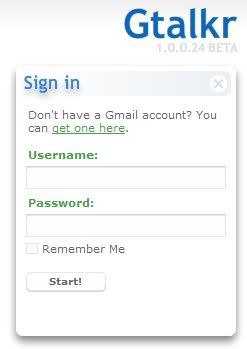 "Go anywhere, to any computer, and have access to your Google Talk account via Gtalkr. No more hassling with upgrades. With Gtalkr you get the features in your browser as soon as they're available." - Gtalkr

MyComment:
What a great tools here! I think this is a better way to integrate some online services in one places, erm not by Google.

However, with this effort the winner is user.. User can login into their Gtalk as of Meebo did for those user that behind corporate firewall.

But, this tools still lack of voice conversation over Gtalkr, no other integration like YM, MSN, ICQ etc. Hope they will develop those extra features.

More Info: Gtalkr

MyRating: *****

p/s: Nice to have. But Meebo already cover for my Gtalk/YM/MSN/ICQ solution..