Creative Commons: Permission License
Creative Commons offers a flexible range of protections and freedoms for authors and artists. We have built upon the "all rights reserved" of traditional copyright to create a voluntary "some rights reserved" copyright. We're a nonprofit. All of our tools are free.


Thinking of licensing of your Audio, Images, Video, Text and Education work online? Creative Commons License is for you. Creative Commons is a nonprofit organization that offers flexible copyright licenses for creative works.

You can choose which kind of permission that you allow if other people using all of your work for various purposes. This organization is supported internationally around the globe including Malaysia.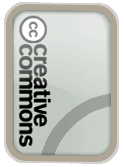 In Malaysia, Creative Commons is working with The Multimedia Development Corporation on porting the Creative Commons licenses to Malaysia. The Creative Commons Malaysia was just launch on 9 November 2005.

If you think that all your hard working materials should be protected, then you must protect your intellectual properties.


More Info:
Creative Commons Malaysia
Creative Commons Organization